The Association of Municipal Assessors of New Jersey will be happy to post your Assessment related job opening on our site.
---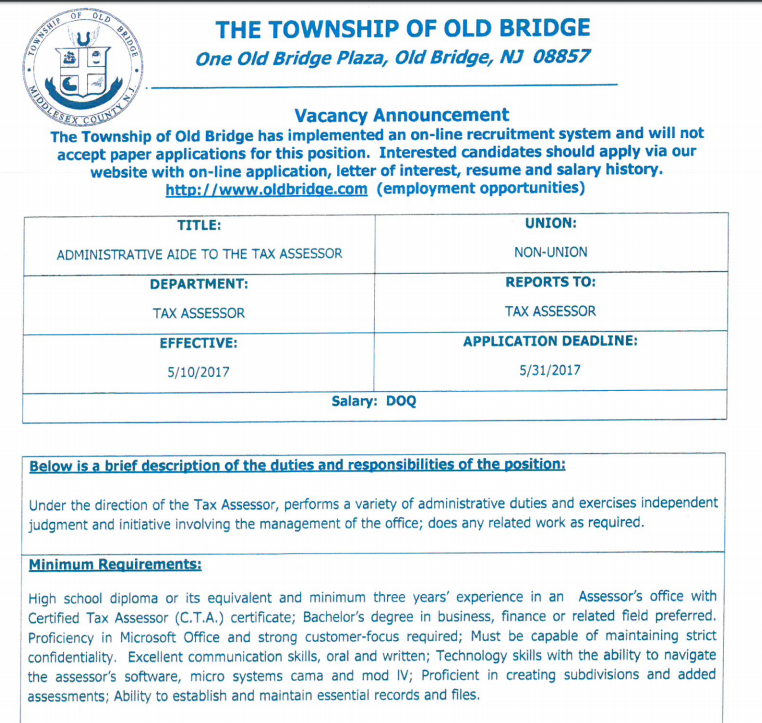 Administrative Assistant – Tax Assessor's Office, Morris Twp., Morris County (P/T Position – 28 hrs./wk):
Seeking a detail-oriented individual with excellent customer service skills to interact with the public and perform various administrative duties related to the operation of the Assessors' office.  Additional responsibilities may include some field inspections of residential properties.
Proficiency in Microsoft Office programs is required.  Familiarity with Microsystems assessing program and GeoClient (Spatial Data Logic) system is preferred.  Some experience in assessing or the appraisal of real property is desired.  Must possess a valid NJ Driver's License. Salary commensurate with experience and knowledge. Position available immediately. Anyone who possesses the necessary qualifications and skills and is interested in the position, email your resume to resume [ at ] morristwp.com no later than June 1, 2017.
TAX ASSESSOR – VENTNOR CITY Atlantic County. The City of Ventnor is seeking a qualified individual to serve as its certified Tax Assessor. The individual shall be responsible for the full-range of responsibilities associated with serving as a Municipal Tax Assessor, including but not limited to the requisite field work, preparing and maintaining property record cards, ensuring tax maps are accurate and up-to-date, preparing annual assessment rolls, preparing for and assisting in the defense of tax appeals at both County Board of Taxation and State Tax Court. The individual is also responsible to provide polite and courteous customer service to the property owners in the municipality. The ideal candidate must possess a certified Tax Assessor License from the State of New Jersey, a high school diploma (college degree preferred) and an in-depth knowledge of New Jersey's local tax assessment laws. The candidate must also have strong organizational, research, as well as solid oral and written communication skills. For informational purposes, the City completed a comprehensive revaluation in 2016 for the 2017 Tax Year.  Please send a copy of your resume, an informative cover letter along with salary requirements to City of Ventnor, Lisa H. Hand, City Clerk, 6201 Atlantic Ave, Ventnor, New Jersey 08406. Résumés must be postmarked on or before Friday, May 12, 2017. E/O/E. Ad Posted April 26, 2017 Ad Removed May 26, 2017
FIELD REPRESENTATIVE – MEDFORD TOWNSHIP. Assessor's Office – FT 35 hr/wk with benefits. Primary responsibility is to physically inspect and collect real property valuation data (both residential and commercial) for taxation purposes.  Knowledge of MicroSystems assessment software, PowerPad or similar technology and proficiency with Microsoft Office products preferred.   When not conducting field work, will assist with all assessing functions. CTA preferred.  Must have a valid New Jersey driver's license.  Interested candidates should mail resume to 17 N. Main Street, Medford, NJ 08055, Attn: Personnel or email resume to dbielec [ at ] medfordtownship.com by 5/17/17. EOE Ad Posted April 13, 2017 Ad Removed May 13, 2017
TAX ASSESSOR-FULL-TIME - Seeking an experienced Tax Assessor to manage the Township's assessment base. The municipality is a northern New Jersey urban municipality operating under the Strong Mayor Council – Faulkner Act form of government. Mandatory requirements for candidates include: NJ State Municipal Tax Assessor Certification, knowledge and experience in Vital software and CAMA software, expert knowledge in managing tax appeal strategy and process, overseeing tax map update project, experience in negotiating abatement and PILOT agreements and monitoring compliance for those agreements, experience in implementing and managing a revaluation program, utilizing technology and improving workflow process, competent in MS word, word perfect, excel, Spatial Data Logic and access products.  Good interpersonal skills, detail oriented and ability to deal effectively with the public, other employees, elected officials, developers, contracted professionals and outside agencies.  The successful candidate must have a minimum of 5 years of experience as a Certified Municipal Tax Assessor (CMTA) or 7 years combined experience as an assistant assessor and CMTA.  Send resume and cover letter to: PO Box 515, South Orange, NJ, 07079. Ad Posted May 3, 2017 Ad Removed June 3, 2017